Re: Frankfurt Gazette 3. August 1915
Publié : dim. déc. 18, 2016 11:26 am
Hallo an Alle
Ich schaue auf die Seite der Zeitung "die Gazette Frankfurt vom 3. August 1915 das feine Verhalten du151ème Infanterie-Regiment bei Bagatelle am 2. Juli beziehen.
In diesem Artikel, den er Tribut an den Heldentod des Kommandanten REMY das 3. Bataillon Kommandeur bezahlt.
Vielen Dank im Voraus
Gérard
beigefügten Notiz des Stabes des Armeekorps (Google-Übersetzung)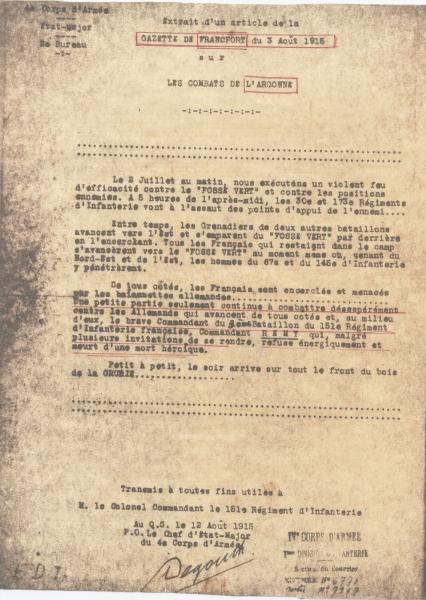 The Frankfurt Gazette of 3 August 1915
Hello everyone
I am looking for the page of the newspaper "La Gazette de Frankfort" dated 3 August 1915 relating the fine conduct of the 151st Infantry Regiment at Bagatelle on 2 July.
In this article he pays homage to the heroic death of Commander REMY commanding the 3rd Battalion.
Thank you in advance
Gérard
Enclosed the note of the General Staff of the Army Corps (Google Translation)